FOR IMMEDIATE RELEASE
CONTACT: (1) (561) 309-6887 or framing_media@turningworld.org
"Each exhibit will be produced using methods and materials that, with proper care, will preserve it for at least decades."
― Brad Workman, Photojournalist
Independent Photojournalist Launches Campaign to Fund Exhibits on Haiti's Enduring Struggles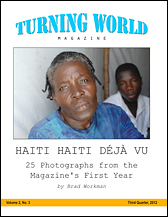 Turning World Magazine
FOREST CITY, N.C., April 30, 2015 — An American photojournalist today began a worldwide search for patrons to fund his project to create traveling exhibits of photographs he made over nine years in visits to Haiti.
Photojournalist Brad Workman's "Framing Haiti" project aims to create three exhibits from 80 images and make them free for venues to receive, display, and return. The photographs focus on Haiti's enduring social and political struggles and were captured between 2004 and 2013. The images can be seen on the project's main Web page at http://www.turningworld.org/framinghaiti.
Today's project launch coincides with the anniversary of the creation in 2004 of the United Nations Stabilization Mission in Haiti, or MINUSTAH, which still operates there with armed force.
Project producer Turning World Communications will also produce a print catalogue for each exhibit, but patrons' funds will be used only for constructing, maintaining, and shipping the exhibits.
"Framing images for exhibition is worthwhile for many reasons," Workman said in a narrated slide show on the project's Web page. "But, in short, the Framing Haiti project can help Turning World fulfill its non-partisan mission."
Images for the first exhibit are 40 portraits made in some residential camps that arose after the 2010 earthquake. Images for the second exhibit are based on politics or street action (or both) in metro Port-au-Prince. Exhibit three will be all 80 images.
"Each exhibit will be produced using methods and materials that, with proper care, will preserve it for at least decades," said Workman, 49.
The project will end and all contributions will be refunded unless funds raised by April 29, 2020, are enough to frame the first exhibit.
Exhibits will be free to display, and venues will not pay any shipping costs for which project funds are available. Non-profit educational venues will get scheduling priority. Other non-profits will get second priority. Maximum uninterrupted display time for any exhibit will be three months.
Patrons receive premiums, and most are for download as digital media upon pledging. Premiums for all support levels, including $5, are described on the project's Web page.
Workman has visited Haiti 22 times since 2003 and published five Haiti-based issues of Turning World Magazine. He founded Turning World Communications in 2007.
-30-
CLICK THIS For More Information (and free photo downloads).